Dental Hygienist Society holds health fair in Bay Area, Texas
Angleton, TX- submitted by Frann Leonard, RDH
The Bay Area Dental Hygienist Society who staffed the booth at the fair included (l-r)

Rebecca Fontenot, RDH (Galveston/Texas City)
Dale Hahn, RDH (Sweeny/Wharton)
Frann Leonard, RDH (Angleton)
Nieves Chapa, RDH (ElCampo)
Betty Lowe, RDH (Angleton)

Great job!
The Bay Area Dental Hygienist Society participated in the Angleton-Danbury Community Health Fair on Saturday, October 26, 1996 from 10am to 1 pm. "The response was great", according to Frann Leonard. Around a thousand people participated and Bay Area presented them with information on dental health that included samples and information from the Oregon Mint Snuff Company. About a hundred sample packages were distributed. October is also the National Dental Hygiene Month, so this health fair was a big boost for area dental hygienists and lots of information was handed out. Other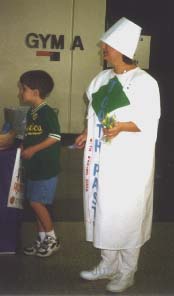 sponsors were Proctor & Gamble and Warner-Lambert.
In just three short hours, Bay Area was able to provide participants with all types of dental hygiene information. Their very own "walking toothpaste" handed out approximately 500 toothbrushes along with information on oral care ranging from children to the elderly.
"The National Cancer Institute provided Bay Area with a very graphic pamphlet entitled 'Spitting Into the Wind'," stated Leonard. "This included facts about dip and chew and what is really included in smokeless tobacco products. This included formaldehyde, polonium 210 (a nuclear waste) nicotine, cancer causing chemicals as well as radioactive elements. This handout was given along with samples provided by [the Oregon Mint Snuff Company]. There was such a good response that area hygienists contacted several local retailers and requested that this product be stocked. Each hygienist that participated also took samples back to their offices to distribute to patients that currently use smokeless tobacco products.
"Thanks, Oregon Mint Snuff Company, for providing Bay area with all the needed information and samples to distribute to our area neighbors, friends and families."
---
Dr. Lavergne's practice puts on health fair in Carencro, LA
submitted by Michele Lavergne, DDS

Thank you so much for the samples of Mint Snuff, program information, caps and t-shirts. Our display at the health fair in Carencro, LA on March 8, 1997 was a huge success! Public interest in [Mint Snuff] was great and we distributed nearly everything you sent us. Enclosed is a photo of our display with Catherine Guidry, dental assistant and [myself]. Thank you very much once again!
Beth Ayres, Dawes County, NE: Extension educator program assistant
Dawes County Health Dept.
Chadron, NE 308-432-3373

Beth goes throughout Dawes County Nebraska developing a wide variety of health education programs for youth and adults. She has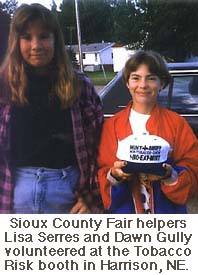 traveled over 1300 miles so far throughout western Nebraska. From Oct 1, 1997 through Sept 31, 1998 she will be working with target audiences of children in grades K-8 organizing "school enrichment" and "school release day" programs in Dawes, Sioux and Sheridan counties located in western Nebraska.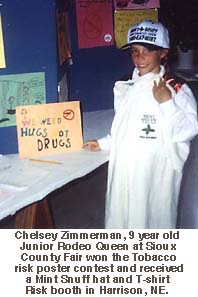 There are 2,250 students in six towns and 550 rural students in the three counties. The number of students in the rural schools range from 3 to 45. Panhandle youth report higher than average use of alcohol, smoking and chewing tobacco. Their project will take youth on days they are unsupervised, bring them into a safe environment where they will learn life skills, communication skills, violence prevention techniques, how to avoid drug use and other valuable life skills. At a recent health fair they had 104 visitors, and had 11 pledges signed to avoid tobacco and drugs. More fairs are on the schedule!
Wherever Beth goes in her region to talk to kids about smokeless tobacco and smoking, she brings along "Mr. Gross Mouth" a model of the mouth that shows the effects of tobacco chewing and "Smoky Sue", a model that shows what happens when an expecting mother smokes- an unborn baby inside the model blows smoke bubbles. She reaches into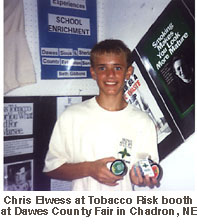 remote areas with coalition building and has been getting good publicity from local radio and newspapers. "We are making people aware of the dangers of tobacco and get them involved. The Northern Panhandle Coalition (Citizens Against Tobacco) would also like to develop a relationship with dentists, hygienists and other health professionals in our area to carry on the messages after we move on". She reports that store owners are being taught about the dangers of spit tobacco as well and developing programs discouraging sales of tobacco to youth .She showed a video produced the Southern Panhandle Coalition (contact Dave Micheels 308-632-1295 or Panhandle Substance Abuse 308-632-3044) ) to local Chamber of Commerces that shows owners how to resist selling tobacco to minors.
She has also held several contests with local youth in developing new posters telling about the dangers of tobacco use and gives prizes to winners.